Commercial Lock & Key Los Angeles, CA - Lock Key Shop
Lock Key Shop also offers a number of commercial locksmith services to businesses. We offer our services to almost all types of businesses including: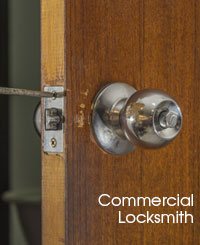 Hospitals
Banks
Supermarkets
Office Spaces
Business Outlets
Schools / Universities
Restaurants
Hotels / Motels
Apartments
Cafes
Assisted Care Centers
Shopping Complexes
Due to the right training and years of experience, our locksmiths can take care of commercial locksmith issues adequately and without much effort. They have implemented keyway systems, master key systems and installed high-security locks for our local clients. This makes sure that people who have access can only enter the premises or sensitive areas of the building. Over the years, we have installed these systems in banks, office spaces, and several other business outlets.
We also install advanced locking systems, through which you can restrict access as per your liking. Restricted locks like keyless entry locks, keypad locks, and digital locks can be used to manage access and can do it better than access control systems. Keypad locks work best for places like banks and office spaces where the owner is trying to strictly restrict entry into certain rooms. Only those people can enter who have the password. This makes it possible to create a highly secure environment for your data rooms or bank lockers.
Along with advanced locking systems, Lock Key Shop also offers high-level security via master key systems. This gives you higher flexibility in terms of who can access what part of the building. You can create a single key for all the locks or multiple sub-master keys so that you retain access via the master key and your employees can only access the designated areas. You can get in touch with us to understand how the master key system works and we would love to help you.
We have been helping the local businesses at Los Angeles, CA area for a long time now. Some of our commercial locksmith services include:
24 – hour emergency locksmith services
Availability all across Los Angeles, CA and neighboring areas.
Urgent locks installation
Reliable services in case of commercial lockouts
Installation of high – security locks
Digital locks installation and repair
Keyless entry solutions
Magnetic locks
Master key systems
Push bars installation
Installation of Mailbox Locks
Installation of File Cabinet Locks
Unique locking solutions for your business
Rekey locks
Key cutting and key duplication
In such a short time, we have been able to secure many local businesses. We provide them tailor-made solutions to these clients based on their needs and our own understanding of their business premises. For banks we suggest digital locks and keypad locks for sensitive areas, for office spaces we suggest keyless entry locks and for cafeterias and restaurants, we offer high-security locks.
This is not exhaustive and totally depends on your needs. So if you think your business location needs an upgrade, call us today and we will do a thorough inspection of your business premises and make appropriate suggestions.
A simple lock repair may seem like a minor issue; that is until it becomes severe and denies you access to your business premises. Our professional locksmiths can provide you the assistance you need by repairing your lock and get it to perform at its optimum, without the need to replace the lock entirely. If our technicians render your lock irreparable, they will provide you with a quick and long-lasting solution by building you a new lock on site.
Call us today @ 310-844-9332 and we will take care of all your lock and locksmith needs. You will be able to concentrate more on your business, without having to worry about your business' lock and locksmith concerns.